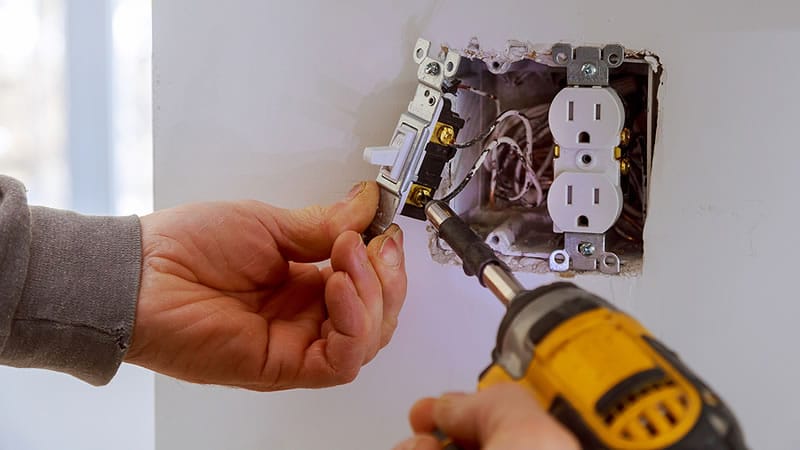 What You Need To Know About Electrical For Home Renovations
Are you considering a remodel or renovation to your home?  Any renovation can have a variety of tradespeople working on the project at any given time and one of the most important is the electrician!  Electrical work is typically hidden behind walls and ceilings so it's not given very much thought during the remodeling process.  When you flip a light switch you expect the lights to turn on.  When you plug something into an outlet, you just expect it to work!  While the electrical is all neatly hidden away, it's a critical component to your comfort, safety, and enjoyment out of your new renovation.  You want to involve a licensed electrician as early in the project as possible so they can help you plan out the electrical aspect of your renovation.
What Type Of Renovations Are You Completing?
Every home renovation will have different requirements when it comes to the wiring and electrical.  Here is some of the electrical work you can expect with most renovation projects.
New panel installations
Rewiring old or outdated electrical
Wiring new switches and outlets
Temperature control installation
Wiring for new or upgraded lighting
Baseboard or wall mount heating
Home security systems
Home automation installation
USB charging port installation
Smoke alarms and carbon monoxide detectors
New outlets for appliances (dryer, stove, dishwasher etc..)
Will You Need An Electrical Permit?  That answer is YES!  If you're doing any type of electrical renovation to your home then you are required to get an electrical permit.  You can find more information about permit requirements through the City Of Victoria Website here.
Is There Existing Wiring In Place That Needs To Be Repaired or Rewired?
When we start digging into the wiring and electrical on an older home that is being renovated it's not uncommon to find all sorts of dangerous and weird surprises underneath your walls and ceilings.  If you have an older home you need to count on finding a few electrical surprises.
Problems We Often Find & Must Repair
Undersized wiring
Unprotected Wires
Poor terminations at connections
Poor or insufficient grounding
Unsafe wiring or connections
Unsafe baseboard heaters
Incorrect length of wires
Incorrectly sized circuit breakers
Wrong type of wire
Insufficient amperage or capacity
Wiring insulation chewed by rodents
Upgrading Electrical Service & Your Panel
If you're renovating an older home (and chances are high that you are) it's more than likely that you're going to need to upgrade your electrical service to improve capacity.  Building a new home addition? Building an attached garage or detached shop?  Your existing system likely won't provide enough amperage to handle all of the draw and may not even offer enough circuit capacity to run everything you need.  Most older homes either have 60 amp or 100 amp service.  It's common for us to upgrade panels to 200 amp panels or even 400 amp panels depending on the type of electrical demand your new renovation will place on the system.
It's important to consider any future plans as well when you're upgrading a panel or electrical service so you have the option to add new circuits if you need them.
Upgrading Your Lighting
Nothing is worse than trying to do anything in a room with poor lighting.  Most of the renovation projects we work on we need to install wiring and electrical to upgrade our clients lighting.  If you're building a new kitchen then you might want some undercabinet lighting installed or maybe some task lighting to light up your sink area or countertops.  Maybe you want to upgrade all of your lighting to more efficient and reliable LED lighting?
Your specific lighting needs are going to be different in every room of your home.  With such a huge variety of choices in both lights and fixtures it can make the decision confusing.  Working with an experienced, licensed electrician you'll have some educated guidance on which type of lights work the best for your specific tasks.
Relocating Outlets, Switches, or Fixtures
As is common with any renovation project you're probably going to need to relocate and move around your electrical outlets, light switches, temperature controls, baseboard heaters, or other electrical fixtures.  If your home renovation involves opening up walls or ceilings and/or tearing down walls or ceilings then it's the perfect time to relocate any electrical fixtures.  They will need to be installed at appropriate heights.
Light switches should be installed approximately 48″ inches from the floor to the center of the switch plate.
Wall outlets should be installed 12 to 18 inches above the finish floor.
Thermostats should be installed approximately 60 inches above the floor.
Baseboard heaters should be located for maximum heating efficiency.
There is a lot of thought that can go into relocating your electrical outlets and switches when doing a renovation project.  Some of the specifics are controlled by the electrical code and others can depend on your specific wants or needs.
Installing Home Automation
Home automation systems or "smart home" systems are growing in popularity because they create safer, more comfortable living spaces.  Being able to control your lights, heat and AC, appliances, lock and unlock doors, open garage doors, security systems, outdoor lighting, and more, with your smart phone or tablet offers an entirely new level of convenience and control.
Here Are Some Home Automation Features:
Motion sensor lighting.  Lights can turn on and off as you enter or leave a room.
Manual and timed control of both indoor and outdoor lighting.
Monitor and turn on/off home security systems.
Lock and unlock any smart door in your home.
Open and close garage or shop doors.
Control your heating and cooling from your phone.
Control ambient lighting in any room in your home.
Choosing A Licensed Contractor
When you're investing in a home renovation project you want everything to be done right.  The majority of the electrical work being completed is going to be hidden behind your walls and ceilings and it's not uncommon for homeowners to hire unlicensed electricians or attempt to do some of this work on their own to save money.  This is like jumping over dollars to save dimes with your home renovation!  We are often called to come and repair shoddy work completed by inexperienced individuals and in many cases it's shockingly (pun intended) unsafe.
When you hire a licensed electrician to complete the wiring and electrical work for your home renovation you're partnering with somebody who has years of experience in the electrical trade.  You can count on the work being done properly and safely so that it offers years of trouble-free convenience.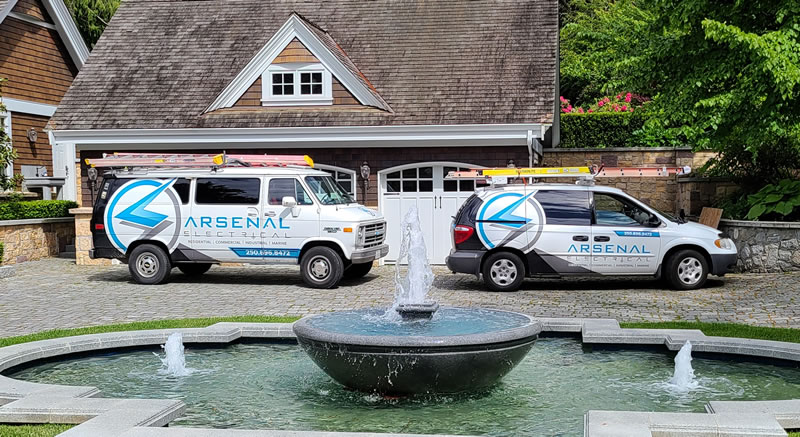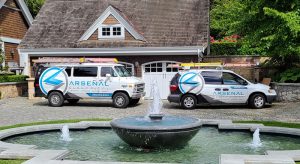 Arsenal Electrical Services is a full service electrical contractor serving the Greater Victoria area.  We specialize in doing the electrical and wiring for home renovation projects.  We are licensed, insured, and have many years of experience as residential electricians.
If you'd like to schedule a consultation and estimate to discuss the wiring and electrical for your home renovation project please give us a call at (250) 896-8472 or fill out our online contact form and someone will be getting right back to you.