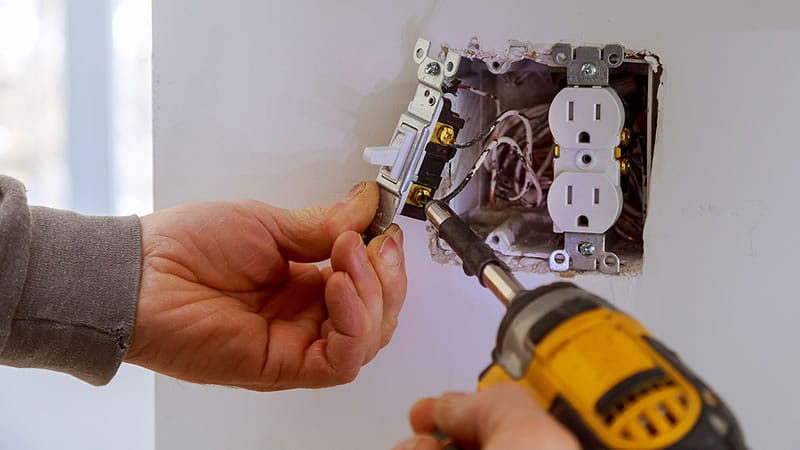 Residential Electrician Services
Are you in need of a licensed electrician in the Greater Victoria area or Southern Vancouver Island?  Maybe you're completing a home renovation and need to have some new circuits installed or maybe you'd like to upgrade your electrical services or maybe you have a troubling, confusing, or dangerous electrical problem that you need fixed?
We can solve residential electrical problems
We can install new electrical circuits and wiring
We can ensure the electrical system in your home is safe and reliable!
Arsenal Electrical is a full service electrical contractor serving the Greater Victoria, and serving the Southern Vancouver Island area.  We specialize in all aspects of residential electrical systems including new electrical installations, troubleshooting electrical problems, electrical repairs, and electrical upgrades for older homes or residential buildings that need electrical infrastructure upgrades.
Whether you're looking for something as complex as replacing a hot electrical panel or wiring your new home addition, or something simple like repairing a broken light switch, baseboard heater, or an outlet that isn't working.  We can provide you with solutions to all of your residential electrical problems.
Residential Electrical Services We Offer:
Fuse box upgrades
Smart wifi controlled switches
Landscape and outdoor lighting
Whole home surge protection
Home data circuits
Electrical transfer switch installations
And more!
Why Choose Arsenal Electrical Services for Your Residential Electrical Needs?
When you choose to work with Arsenal Electrical Services for your residential electrical solutions you're partnering with a small, local, company that has extensive experience in the electrical trades.  We are licensed in British Columbia and insured to work on the electrical systems inside your home or building.
As an owner/operated company you can have the peace-of-mind knowing that any electrical work we complete will meet or exceed local electrical safety codes.  The work we do will be safe and reliable and we also back all of our work with a 1 year warranty on our workmanship.
If you'd like to receive an estimate to solve your residential electrical problems give us a call at (250) 896-8472 or fill out our online contact form and someone will be getting right back to you.