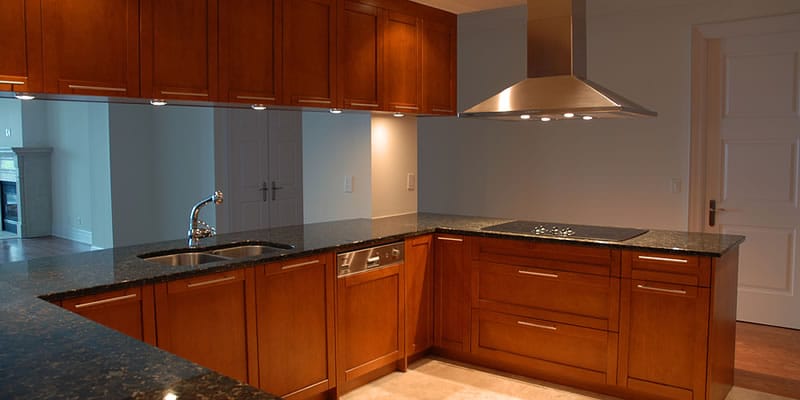 Under Cabinet Lighting Installations
When it comes to your kitchen a little bit of lighting can go a really long way in brightening up your space.  Under cabinet lighting is a great way to improve the usability of your kitchen and make your everyday kitchen tasks a lot easier.  Have you ever found yourself working in the kitchen  but the light fixture is above and behind you?  It makes for a pretty dark kitchen countertop and under cabinet lighting eliminates this common problem.
Arsenal Electrical Services is a full service electrical contractor serving the Greater Victoria area. We specialize in the installation of new under cabinet lighting systems in homes and businesses as well as upgrading old or outdated under cabinet lighting to more modern LED fixtures.  Whether you'd like to light up your kitchen counters, a workbench in your shop, or some fancy displays in a commercial setting, we'll be able to help.
There Are Several Types Of Under Cabinet Lights
LED Under Cabinet Lights
Under Cabinet Tape Lights
Under Cabinet Puck Lights
Hard Wired Under Cabinet Lighting
Under Cabinet Lighting Makes Your Space More Enjoyable To Work In
Poor lighting is always a hassle when it comes to trying to do any task, especially in your kitchen or in a workspace setting.  With the cabinets over top of your counter it's often a particular dark space, especially in corners as well.  Properly installed under cabinet lighting will provide uniform illumination across your entire countertop.  An under cabinet lighting system provides your space with a more modern look and feel too.  The right lighting provides a safer, more enjoyable space to work in and complete those everyday tasks.  It's actually amazing what a difference a little bit of light makes!
How Do We Install Under Cabinet Lighting?
First we need to see your space so we can determine what type of lights are going to work best and how much illiumination you need.  If you have an existing set of under cabinet lights that need replacing you likely already have wiring in place which can make the job easier.  If it's a new installation we'll need to run power to the area, which in most cases is not that difficult.  Installing some under cabinet lights is typically something that can be done in just a few hours once all of the materials are in-hand and there is power at the location.
Why Choose Arsenal Electrical Services for Your Under Cabinet Lighting Installation?
When you choose to work with Arsenal Electrical Services to install new under cabinet lighting you're partnering with a small, local, company that has extensive experience in the electrical trades. We are licensed in British Columbia and insured to work on the electrical systems inside of your home or building.
As an owner/operated company you can have the peace-of-mind knowing that any electrical work we complete will meet or exceed local electrical safety codes. The work we do will be safe and reliable and we also back all of our work with a 1 year warranty on our workmanship.
If you'd like to receive an estimate to install under cabinet lighting give us a call at (250) 896-8472 or fill out our online contact form and someone will be getting right back to you.