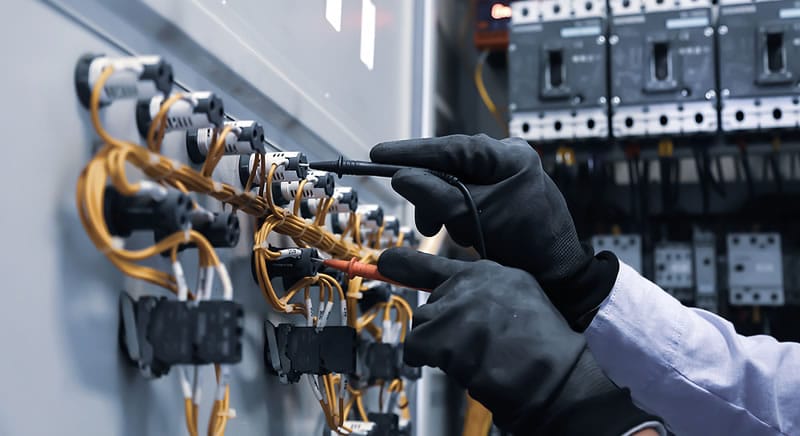 Industrial Electrical Services
Industrial buildings and facilities like manufacturing plants, fabrication shops, food plants, and more all have very unique electrical needs.  With complex systems and even more complex electrical engineering it takes a capable, knowledgeable team to handle the needs of these type of facilities.
Arsenal Electrical Services is a full service electrical contractor serving the Greater Victoria area. We specialize in the electrical service upgrades for homes, shops, garages, and other buildings. From upgrading an existing panel to replacing circuits for higher capacity if you'd like to install a new air conditioner or maybe an outlet to handle a welder in your garage, the team at Arsenal Electrical Services can help.
Industrial Electrical Services
Power Distribution
Machine Wiring
Maintenance Contracts
Lighting Retrofits
Troubleshooting
Equipment Installs
Equipment Relocation/Plant Moves
Industrial Electronic Repair
Custom Control Panels
Solar Installations
Machine Commissioning
Maintenance Shift Coverage
Power Factor Correction Solutions
Types Of Industrial Equipment We Can Work On
Large Compressors
Conveyors, Mixers and Material Handling
Food and Pharmaceutical Plants
Paintlines and Industrial Spray Booths
Processing & Oven Systems
Plant Networks & Industrial Computers
Weld Controllers
And more!
Why Choose Arsenal Electrical Services for Your Industrial Electrical?
When you choose to work with Arsenal Electrical Services to work on the electrical systems within your industrial facility you're partnering with a small, local, company that has extensive experience in the electrical trades. We are licensed in British Columbia and insured to work on the electrical systems inside of your home or building.
As an owner/operated company you can have the peace-of-mind knowing that any electrical work we complete will meet or exceed local electrical safety codes. The work we do will be safe and reliable and we also back all of our work with a 1 year warranty on our workmanship.
If you'd like to receive an estimate for your industrial electrical service then give us a call at (250) 896-8472 or fill out our online contact form and someone will be getting right back to you.