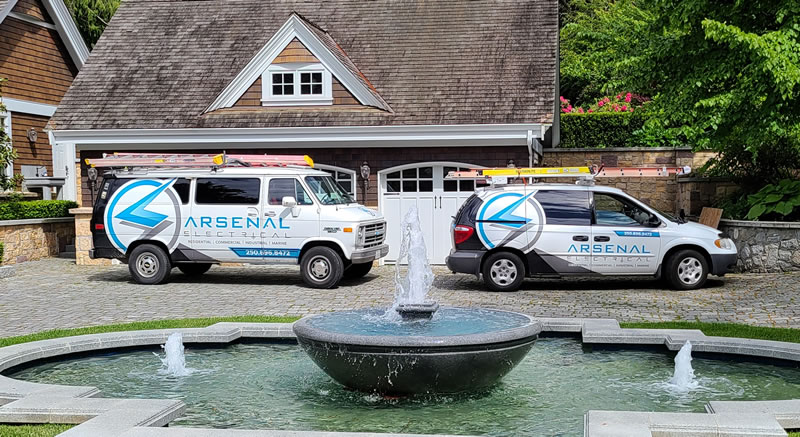 Licensed Electrical Contractors Victoria BC
Do you have an electrical problem in your home or business that needs troubleshooting and repair?  Do you want to upgrade your electrical services or install new outlets, switches, or lighting fixtures?  Need the services of professional electrical contractors, Victoria? You've come to the right place.
Arsenal Electrical Services is a full-service electrical contractor in Victoria BC offering services to local residents and Victoria businesses.  We specialize in electrical upgrades, electrical installations, and electrical troubleshooting and repairs.  From upgrading an old electrical panel to replacing switches and outlets, upgrading lighting systems, wiring in new circuits, or even wiring up a new construction project, we are your trusted choice for electrical services in Victoria BC.

Other popular service areas are Langford and Saanich.
Electrical Services We Provide:
Electrical Service Upgrades
I just love the older homes here in Victoria with all their character and charm. From James Bay to Brentwood Bay, if you're moved into an older or new-to-you home, you should look at their electrical wiring.
Are there electrical upgrades or improvements you'd like to have made?  Maybe you'd like upgrade older aluminum wiring? Or you'd like to replace an old fuse box with a modern circuit breaker electrical panel?  There are many different reasons you'd probably like to upgrade the electrical in your home or building and all of them will require the services on a licensed, professional electrical contractor in Victoria BC.
Upgrading from 60 amp to 100, 200, or 400 amp service
Adding new panels and sub-panels
Electrical panel replacements
Installing transfer switches
Arsenal Electrical Services can provide safe, reliable, and affordable solutions for your electrical upgrades in your home or commercial space.  Give us a call today (250) 896-8472
Remodeling Electrical Services
When it comes to home remodeling, Victoria BC offers a wealth of options and opportunities for homeowners looking to transform their living spaces. Our town of Victoria is known for its stunning natural beauty, charming neighborhoods, and a thriving home remodeling industry!
The capital region boasts a wide range of experienced Victoria electricians, architects, and designers who can bring your remodeling visions to life.
One of the advantages of home remodeling in Victoria is the diverse architectural styles found throughout the city. From historic heritage homes to modern residences, there is a wide array of design aesthetics to choose from. Whether you prefer a classic Victorian look, a sleek contemporary design, or a fusion of different styles, Victoria's remodeling contractors and Victoria's electricians can cater to your specific tastes and preferences.
So, remember, when it comes to home remodeling in Victoria, BC, one crucial aspect that deserves special attention is electrical work. Whether you're renovating a single room or undergoing a complete home makeover, hiring skilled Victoria electricians is essential to ensure the safety, functionality, and efficiency of your electrical systems.
Electrical outlets might need to be moved, new lighting might need to be installed, you may wish to upgrade switches, or even install new fixtures.  We provide our electrical services to both homeowners and Victoria general contractors looking for safe, reliable, electrical services.
Wiring for new home additions
Relocation of switches and outlets
Electrical for basement finishing projects
LED lighting installations and lighting upgrades
New electrical panel installations
Electric Vehicle Charging Station Installation
If you've just purchased an EV or are looking to expand amenities for your commercial building or residential development then EV charging stations are quickly becoming mainstream.  Our electrical contractors in Victoria specialize in the installation of electric vehicle chargers for home use and also networked EV charging stations for commercial properties, townhomes, condos, and any situation where multiple EV chargers need to be installed.
We can help you choose the correct EV charger for your application and we can also assist you with the local and provincial rebates that might be available for your situation.
Commercial Electrical Services
Do you have a commercial space in Victoria you'd like to have some electrical work done in?  Maybe you're moving into a new retail space and want to install specialized lighting?  Maybe you'd like to have a dedicated circuit for computers or data transfer?  Maybe you'd like to upgrade your electrical service so you can add more circuits?  We specialize in providing electrical solutions for commercial businesses and buildings including restaurants, retail stores, professional offices, and more. Some of what our commercial electricians in Victoria and surrounding areas help with are:
New commercial construction projects
Electrical upgrades for tenant improvements
Lighting and illumination systems
Troubleshooting and repairs
Backup generator installations
Why Choose Arsenal Electrical Services For Your Electrical Contractor, Victoria?
When you choose to work with Arsenal Electrical Services for your residential or commercial electrical solutions you're partnering with a small, local company with several years of experience in the electrical trades.  We are licensed in British Columbia and we are insured to work in your home or building.
As an owner operated company you can have the peace-of-mind knowing that any electrical work we complete will meet or exceed state and national electrical codes.  The work we do will be safe and reliable and we offer a one year warranty on our workmanship. Put your mind to ease and trust in our electrical contractors in Victoria BC.
If you'd like to receive an estimate to solve your electrical problems give us a call at (250) 896-8472 or fill out our online contact form and someone will be getting right back to you.